Welcome to Harvest Grove Orthodontics
Harvest Grove Orthodontics is a new, modern orthodontic practice that provides care for families from Richmond and the surrounding communities of Katy, Sugarland, and Rosenburg. Whether you need early orthodontics, adolescent treatment, or adult orthodontic care, Dr. Mecca Abdullah at Harvest Grove Orthodontics will provide an exceptional experience for patients of all ages.
We are a Certified Invisalign Provider
With advanced technology and the highest degree of service, Harvest Grove Orthodontics offers state-of-the-art treatment to help you get the smile you deserve.  Dr. Abdullah is an expert in alignment, smile esthetics, and achieving a healthy bite.
Learn more about:
Schedule An Appointment Today!
Contact our office at (281) 942-0122 for your free consultation today.
We provide personalized care to determine which treatment option is right for you.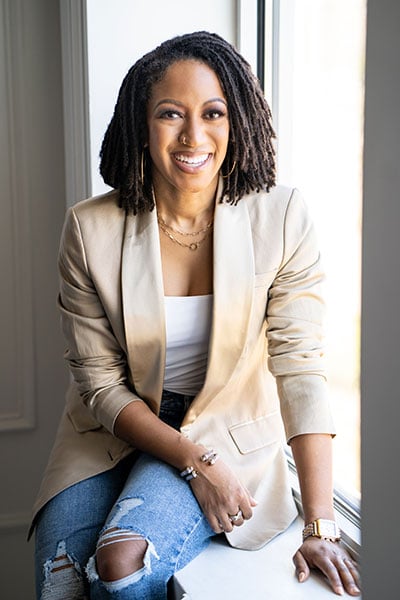 Dr. Abdullah works to uplift her patients by creating beautiful smiles that her patients can have for a lifetime. She absolutely loves orthodontics and is so grateful to have a career that is so rewarding. 
See What Our Patients Are Saying
We strive to provide a 5-star orthodontic treatment experience to all of our patients and their families.
Aja Moss
★★★★★
First day back in braces in 20years. Dr Mecca made the process seemingly smooth and went over my treatment plan with me thoroughly! The office staff is very nice and helpful with all questions and concerns.
Courtney Henson
★★★★★
If you are looking for an Orthodontist, I would definitely recommend Dr. Abdullah. She is amazing! She is very thorough and her beside manners are 10/10! From the moment we walked in we were greeted by her front desk assistant Autra with a smile( please forgive me if I spelled it wrong.) I think having the patient's for the day name on the welcome board is the cutest thing!!
Sheena Watson
★★★★★
The experience was amazing with Dr. Mecca & Antra. Both are friendly and personable. My daughter was nervous during her consultation but Dr. Mecca was quickly able to calm her fears by explaining the process and treatment plan in a way that an 11 year old will understand. I highly recommend this dental practice.
Faye Barnett
★★★★★
They were very friendly and quick! The office was super cute and clean too. Loved it!
Alicia Gaines
★★★★★
I absolutely love Harvest Grove Orthodontics! Dr. Abdullah and her staff are always polite, welcoming, and professional. She makes my daughter feel comfortable during her treatments. I would definitely recommend her 10/10!
Chronda Barrow
★★★★★
My experience at Harvest Grove Orthodontics has been very pleasing and inviting. Dr. Abdullah is very caring about my daughter's health. She is looking forward to coming again. Thanks!!!!
MISTER 'O' PHOTOGRAPHY
★★★★★
The entire process was seamless. I highly recommend Harvest Grove Ortho
Crystal Garcia
★★★★★
I am very happy to have gone to get a second opinion with an orthodontist. As my first opinion was from a general dentist. Which at the general dentist I was told that I needed to have my job broken in order to fix the issues that I have going on with my mouth, but when I came to see Harvest Grove for my consultation I got nothing but great news! I learned things that I didn't even know about my mouth. It didn't even take Orthodontist Abdullah long to show abd explain to me what she sees. She say more then i was ever told before,, which just makes me so happy to know I've found a great Ortho office. Abdullahs office staff a very friendly and nice, put me at ease the whole way through. I've been going to different dentists throughout my whole life, and what I've heard today just brings happy tears to my eyes.. I know now that I can get the braces that I wanted to fix my issues. And I know that my mouth does not need to be broken to fix my issues. I'm just so very excited to have gotten the results from just my consultant. I definitely can't wait to see my results!!!!
Monique McDay
★★★★★
The customer service is impeccable!!! The office is clean, neat and beautifully decorated. I love the warm welcome and beautiful smiles greeting us every visit! I highly recommend this office! My daughter and I love it here and we are grateful for the referral by our dentist. I look forward to the end result and thank you Harvest Grove for your excellence service!
Brittaney Williams
★★★★★
Dr Abdullah! Is everything. Please see her for your orthodontic needs. She has my daughter smiling with all teeth when you never opened her mouth before. Both of our mouths are getting straighter by the day!
Kelsey
★★★★★
I absolutely love Harvest Grove and Dr. Abdulah. Dr. Abdulah is very percise about her work and from the moment I did my consultation I knew she was the perfect orthodontist for what I was wanting. The staff is amazing and the overall experience is amazing. I have been working with Dr. Abdullah for a over a year now and I love the progress that we've made on my smile. I can't wait to see the finished product. If you are looking for a great Othrodontist Harvest Grove is the place you want to go too!
Allison Tomlin
★★★★★
An incredible team and orthodontist! You will always have the best experience and patient care at this office!
Tayla Cunningham
★★★★★
Dr. Abdullah is an absolutely amazing orthodontist!! When it comes to patient care, her professionalism and attention to detail speaks for itself. And to top it off, she has a such a warm and upbeat spirit with a sense of humor to boot!! So if you're looking for an absolutely amazing orthodontist, no need to look any further! Dr. Abdullah is the real deal!!!
Rebekah Dailey
★★★★★
The most passionate and caring provider and team!
Reagan Payne
★★★★★
I would recommend anyone to Dr. Abdullah! Her and Cindy are excellent and have given me such a comfortable experience so far. It truly feels like visiting with friends! All questions that I had were answered and all of the information I needed was provided to me clearly. I also must add that the space is beautiful and cozy! I am so happy with my choice to have Dr. Abdullah do my braces and know that anyone else will be happy as well.
Madeira Hatcher
★★★★★
Dr. Abdullah is an excellent clinician with awesome bedside manner. My daughter absolutely loves her. So excited about this new location!
Anthony Curtis
★★★★★
Dr. Abdullah is the epitome of a professional. The care she takes with her patients is unmatched. She answers all questions and concerns throughly and with easy understanding. I would recommend her over and over again. My son loves his new smile!
Jack Dash
★★★★★
I have had a great experience with Dr. Abdullah as my orthodontist. You can tell in her communication that she is very passionate and loves what she does.
Shannon Williams
★★★★★
AMAZING experience w/ Dr. Abdullah! She is very detail oriented and thoroughly explains everything. It made me feel a lot more comfortable about investing in my smile and confident I would achieved my desired result
Remeka Jones
★★★★★
If you are looking for an orthodontist I highly recommend you go to Dr. Abdullah. She and her team are wonderful. Dr. Abdullah does a thorough job of explaining the treatment plan and providing progress updates. Her team is great with all ages especially teenagers, definitely personable and relatable.
Shamekia Nwafor
★★★★★
Dr. Mecca Abdullah is the best orthodontist in the area. She is highly knowledgeable and compassionate. She cares so much about her patients, staff ,and her community. If you want an amazing smile, and overall great experience go to Harvest Grove orthodontics
Check Out Our
Brand New Office